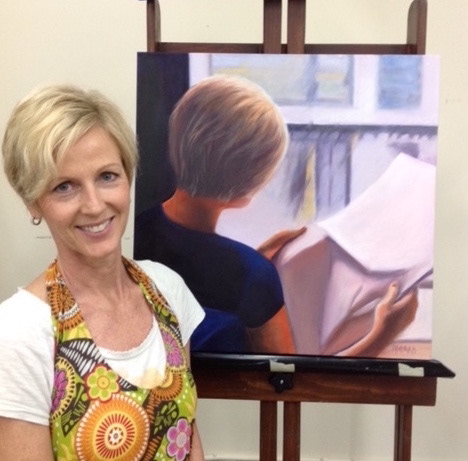 Artist Statement
I see in swaths of color and light.  I am inspired by the great Abstract Expressionists from the late 40's and early 50's: Willem de Kooning, Joan Mitchell, Lee Krasner, and Helen Frankenthaler, just to name a few.  My art is about taking color and creating a feeling.  Sometimes I start with very little in mind - maybe with mark-making and reacting.  The paint tells me where I need to go next. The process of not knowing can be a complete joy and, at the same time, can be completely devastating.  Not everything comes together every time.   I've learned to let those days be behind me as it's all a part of the process – both the good and the bad.  
Painting on paper gives me the most freedom to paint spontaneously.  I work on ungessoed paper and let the paint become one with the substrate.   Whatever mark or brush stroke I make is apparent from the beginning to the end. 
Painting on canvas and board has different qualities that give different feelings.  I enjoy them all and continue to explore in those areas, too.
I enjoyed pastel and watercolor while taking private art lessons through my childhood into high school.  Art took a back seat while making a career and then a family.  I took up my brush in earnest about eight years ago while spending more time in Florida.  I worked with oils and realism but knew I was missing something.   Acrylic and abstract painting allow me to give a visual voice to my inner world.  Two accomplished contemporary artists that I've been lucky enough to work with are Brenda Zappitell and Sally Cooper. 
I hope you find joy in what I do. I often say that nobody has more fun than I do when I paint.
Biography

Michelle Marra has shown in group shows in Florida and Connecticut. 
Mystic Museum of Art, Mystic, CT - recipient of a second place award
Cornell Museum of Art, Delray Beach, FL
Partnered with artist friends in group shows

QUOTES TO SAVOR
"It took me four years to paint like Raphael and a lifetime to paint like a child.""
Pablo Picasso
"Chance favors the prepared mind." -  Louis Pasteur
"Creativity is contagious.  Pass it on." - Albert Einstein
"Creativity takes courage." Henri Matisse
"The position of the artist is humble.  He [she] is essentially a channel." Mondrian
For information about my work please inquire to:
Michelle Marra
michellemarra@comcast.net
860-690-6966
Please follow me on Instagram
 -  michellemarrastudio